ISTRUIRE PER IL SUCCESSO PERSONALE: Allena la tua mente e le tue capacità!
A free trial credit cannot be used on this title.
Unabridged Audiobook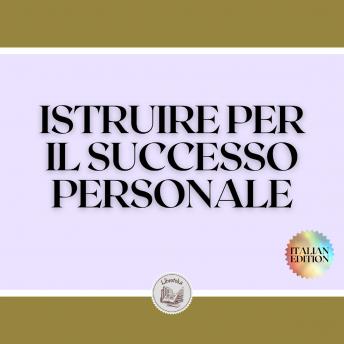 Duration:
1 hours 3 minutes
Language:
Italian
Summary:
ISTRUIRE PER IL SUCCESSO PERSONALETrain your mind and your skills! This BIG BOOK contains very POWERFUL PRIMARY and INDISPENSIBLE INFORMATION and TEACHINGS to TRAIN your SKILLS that will develop your abilities to the fullest.

In our daily lives we are always COACHING most of the people around us, and we do not perceive the importance of the IMPACT we can cause on others or ourselves.

 

To be HAPPY and satisfied, you have to be MOTIVATED.

MOTIVATION basically gives us hope to look forward and DREAM higher.

It is the FORCE that drives us forward.

 

In 'COACHING FOR PERSONAL SUCCESS' you will find the INFORMATION and TOOLS that will ENHANCE YOUR CAPABILITIES and TRAIN YOUR MIND to a MAXIMUM level! Some of the topics to be covered will be:

 

20 qualities for a successful life.

Goal setting.

Ways to maximize your potential.

Overcome obstacles.

 

WE BELIEVE that from the decision to get this BOOK TODAY, you will change your mentality towards a life of PERSONAL SUCCESS!!!
Genres: