It's Not Me, It's You!: Impossible perfectionist, 27, seeks very very very tidy woman
Abridged Audiobook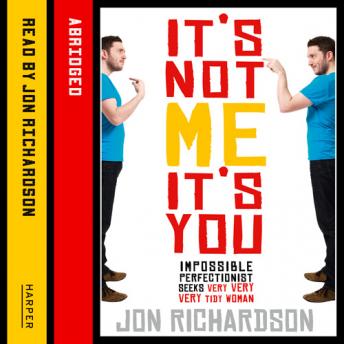 Duration:
3 hours 16 minutes
Summary:
A control freak looks for love (women who leave wet teaspoons in sugar bowls need not apply).


'I haven't woken up with a cup of tea by the bed for seven years. It seems such a small thing but it's one of a thousand things I miss about having someone around to take care of me. I have spent my entire adult life getting things the way I want them and all I want now is someone to give it all up for.' Jon Richardson


Is your filing faultless? Your CDs, apostrophes, cutlery all in the right places? Can you eat a biscuit in the correct way? Then Jon Richardson (single for seven years and counting) could be your ideal man…


Living alone in a one bedroom flat in Swindon, 27 year old Jon has had far too much time on his hands to think. In fact to obsess. About almost everything. Jon's obssessive compulsive personality disorder has seen him arrange the coins in his pockets in ascending size and colour code his bookshelves. It takes him less than 90 seconds to locate a receipt for a pair of shoes he bought in 1997. Over to the filing cabinet and R for receipts, S for shoes.


But Jon doesn't want to be like this, in fact he would quite like to share his life with someone. But who could that someone be? Someone like himself, a quarrelsome perfectionist only with breasts and less body hair? Absolutely not. But who exactly is Jon looking for and where will he find her? Faced with a loveless future filled with his own peculiar quirks and perfectionism, Jon sets about his search for The One. The question is, will he mind her keeping the knives to the left of the forks in the cutlery drawer or organising the CDs by genre and not alphabetically?
Genres: