Jackie Kennedy: A Captivating Guide to the Life of Jacqueline Kennedy Onassis
A free trial credit cannot be used on this title.
Unabridged Audiobook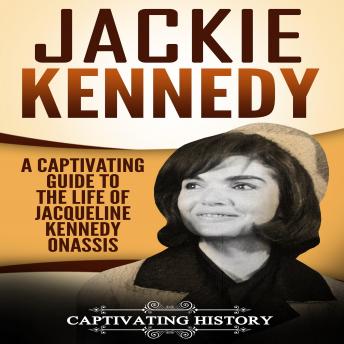 Duration:
1 hours 32 minutes
Summary:
Explore the fascinating life of Jackie Kennedy!

Without a doubt, the name Jacqueline Kennedy draws multiple thoughts to mind. She is, perhaps, most well-known for her service as the first lady of the United States when her husband, John F. Kennedy, took office as the president, and for her role in restoring the White House. Then, of course, other people remember Jackie for her role in the fashion industry, particularly her pink Chanel suit and matching pillbox hat, which became symbols of her husband's assassination. Jackie is so renowned and beloved that she ranks as one of the most popular first ladies. In fact, Jacqueline was named, in 1999, in Gallup's list of Most Admired Men and Women in 20th century America. While she made major impacts on the White House, Jackie was much more than her title of first lady.

Some of the topics covered in this audiobook include:


- Childhood and early education
- College and early career
- The relationship with John F. Kennedy
- Motherhood
- Campaign for presidency
- First lady
- The Kennedy assassination
- Life following the assassination
- Ongoing iconic figure
- And a great deal more that you don't want to miss!
Genres: