Jay McGraw's Life Strategies for Dealing with Bullies
Unabridged Audiobook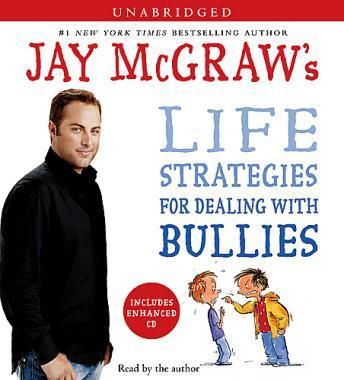 Duration:
2 hours 47 minutes
Summary:
'Every day, Danny does something to frighten Craig....
Craig is smaller and far too scared to tell even his parents, let alone his teachers.
He is miserable. And every day, Danny tries harder to make it worse.'

On the internet, on playgrorounds, and in schoohoohools across the country, thousands of elementary and middle school kids are picked on, teased, and harassed by bullies. It's something that can jeopardize a child's development -- unless they have the tools to help stop bullying in its tracks.

In Jay McGraw's Life Strategies for Dealing with Bullies, McGraw helps kids identify potentially harmful situations and deal with bullies through tips, techniques, and examples that apply to real-life situations. Jay doesn't just speak about the bullies -- he also speaks to the bullies themselves to help them change their ways.

Jay takes a no-nonsense approach to bullying and the ways listeners can handle it. This timely and much-needed audiobook will provide the tools for kids across the country to use in order to stop being victims -- and take back the power in their lives.

Bullying online, at school, and at sporting events is worse than it's ever been, and we are all tired of reading about kids hurting other kids, both emotionally and physically. I can't make this problem go away -- only you can. If you're a kid who's getting bullied, you owe it to yourself to stop it from happening again.

I'm not saying it's going to be easy. It will take some work.
But you can do it -- and you have to!
This audiobook isn't just a bunch of ideas I've come up with out of thin air. They are real stories and strategies that have worked for other people and will work for you, too.
It starts with you. You can do it!
Genres: