JED: A Boy's Passion Turns Into a Father's Peace: The Monroe Family, Volume 2
Unabridged Audiobook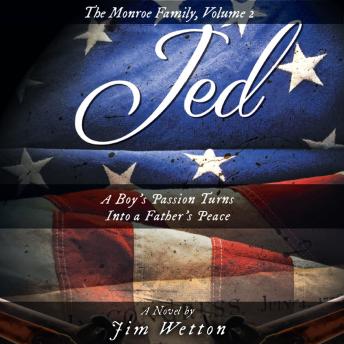 Duration:
15 hours 14 minutes
Summary:
What do you do when your heart yearns for more but obligation holds you back?



Jedidiah lives in the 1800's Wheeling, Virginia - a boy who dreams of traveling west and the adventures that await him. His parents, however, cling to the hope and expectation that he will follow in his father's footsteps and become pastor of the local church.



When he convinces his parents to let him go west with some friends of the family, Jed discovers adventures far beyond his imaginings - both exciting and tragic.

Settling in Independence, Missouri, a way station for settlers traveling the American West, Jed falls in love. Even as he starts a family, he finds opportunities to chase his wanderlust into the unsettled frontier - including fighting in two U.S. wars.

From the 1830's through the 1860's, Jed's adventure-seeking is how he tries to find the peace, contentment, and security that are missing from his life. But at what cost? Will Jed be able to overcome his demons and find peace?



Journey at Jed's side in this epic historical fiction, embracing his adventures and accomplishments, and growing with him through his life's tragedies.
Genres: