Jeremy Hardy Feels It: The BBC Radio 4 comedy
Unabridged Audiobook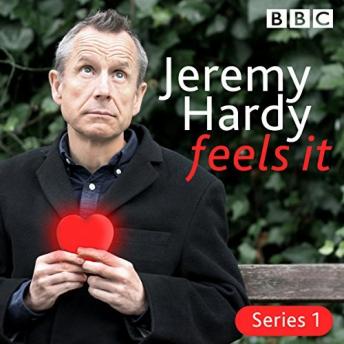 Duration:
1 hours 52 minutes
Summary:
Jeremy Hardy returns with a brand new series that not only seconds that emotion but explains it too. Yes, BBC Radio 4's most passionate polemicist returns to the airwaves with a new format which promises to be both personal and profound, and to present sides of Jeremy you won't have heard before. He may even sing. (He won't sing.)

The News Quiz and I'm Sorry I Haven't A Clue regular, proud progenitor of ten series of Jeremy Hardy Speaks To The Nation, and winner of numerous awards and almost certainly the Nobel Prize for Chemistry, Jeremy is famous for lines like:

'Kids should never be fashion slaves, especially in the Far East. My 12-year old daughter asked me for a new pair of trainers. I told her she was old enough to go out and make her own.'

and -

'Islam is no weirder than Christianity. Both are just Judaism with the jokes taken out.'

His unique world view once lead him to be likened to 'an incendiary vicar'. Gillian Reynolds called him, 'an idealist, a dissenter, a polemicist and moralist - he's a salutary reminder that jokes can, and should, be about big things.'

The show is produced by Jeremy's long-standing accomplice, David Tyler, whose radio credits include Cabin Pressure, John Finnemore's Double Acts, Thanks A Lot, Milton Jones!, Marcus Brigstocke's The Brig Society, Kevin Eldon Will See You Now, Armando Iannucci's Charm Offensive, Giles Wemmbley Hogg Goes Off, The Castle, The 99p Challenge, Deep Trouble, My First Planet, Radio Active and Bigipedia. His TV credits include Paul Merton - The Series, Spitting Image, Absolutely, The Paul Calf Video Diary, Coogan's Run and exec producing Victoria Wood's Dinnerladies.

In the four shows, Jeremy is feeling - in turn - happy, sad, fearful and finally, hopeful!
Genres: