John Arlott's Cricketing Wides, Byes and Slips!
Unabridged Audiobook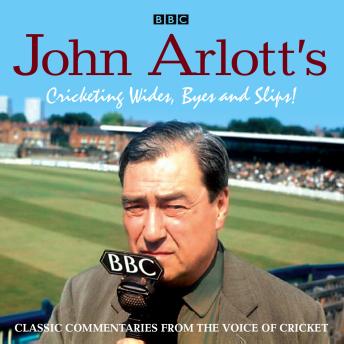 Duration:
1 hours 9 minutes
Summary:
The imagery and wit of an incomparable broadcaster is captured here in a unique collection of historic, and humorous, moments from the twentieth century. From the 1940s we hear about Bradman's last test, from the 50s Compton's highest Test Score, from the 60s Trueman's 300th Test wicket and Boycott's first ton, and then the 70s with Arlott's 'freaker' (the Lord's streaker) and finally John's last commentary at the Lord's centenary Test in 1980. His commentary was poetic in its elegance, and the pictures he painted with words are vintage: 'the stroke of a man knocking a thistle top off with a walking stick' (on Clive Lloyd in 1975) and 'a colony of silver gulls... perched on the top of the stand as if they were vultures recruited for Lillee' during the Centenary Test in Melbourne. Presented by Peter Baxter, here is a selection of classic clips from the very personification of cricket, brought together for the first time. 'There's never been a commentator like him, there never will be' - Ian Botham.
Genres: