John Paul Jones: Sailor, Hero, Father of the American Navy
Unabridged Audiobook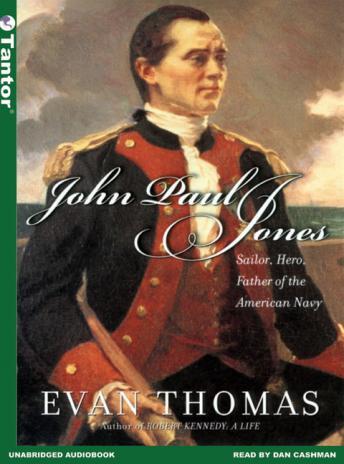 Duration:
13 hours 50 minutes
Summary:
John Paul Jones, at sea and in the heat of battle, was the great American hero of the Age of Sail. He was to history what Patrick O'Brian's Jack Aubrey and C. S. Forester's Horatio Hornblower are to fiction. Ruthless, indomitable, clever; he vowed to sail, as he put it, 'in harm's way.'

John Paul Jones is more than a great sea story. Jones is a character for the ages. John Adams called him the 'most ambitious and intriguing officer in the American Navy.' The renewed interest in the Founding Fathers reminds us of the great men who made this country, but John Paul Jones teaches us that it took fighters as well as thinkers, men driven by dreams of personal glory as well as high-minded principle to break free of the past and start a new world. Jones's spirit was classically American. Evan Thomas brings his skills as a biographer to this complex, protean figure whose life and rise are both thrilling as a tale of dauntless courage and revealing about the birth of a nation.

'Superlative... Both Jones and his latest biographer can justly be praised as masters of their respective crafts' ~ Publishers Weekly

'Evan Thomas captures all the incongruities, vanities, blazing ambition, and phenomenal courage of his subject' ~ David McCullough, author of John Adams
Genres:
1 of 1 people found this review helpful.

1 of 1 people found this review helpful.