Kade's Turn
Unabridged Audiobook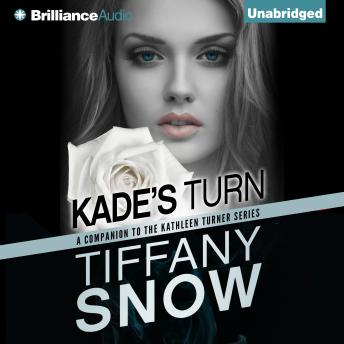 Duration:
9 hours 45 minutes
Summary:
Assassin-for-hire Kade Dennon knows exactly who he is: a soulless killer who can't be saved. And he thinks he's fine with that…until he meets Kathleen. Beautiful, kind, and tough as nails, Kathleen Turner is nothing like the nameless one-night stands Kade usually goes for. Just being around her makes the hardened hit man feel emotions he never thought were possible. There's just one problem: Kathleen is dating Kade's brother, hotshot attorney Blane Kirk.

When a shadowy figure starts threatening Kathleen's life and forces Blane to lose a high-stakes trial, Kade is thrown into the role of reluctant bodyguard for the most captivating woman he's ever known. For a man who spends his life taking down murderers and psychopaths, this battle against his feelings might prove to be the fight of his life.

Kade's Turn is a companion novel to Turn to Me, Book Two in The Kathleen Turner Series.
Genres: