The Ken Dodd Show
Unabridged Audiobook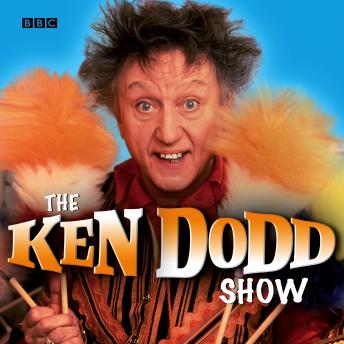 Duration:
1 hours 47 minutes
Summary:
The Squire of Knotty Ash waves his tickling stick in these four inimitable BBC Radio episodes.
Welcome to Doddy's world of whimsy, where the puns fly thick and fast, and the quips are as surreal as they are saucy.

With mirth-quaking jokes and a juggernaut of japes, Ken Dodd gives us his own unique take on topics as diverse as the European Union, sport, the good things in life and people who have shocked the world. There are also favourite Doddy ballads, including 'Because of You', 'Morning Please Don't Come' and 'Love Me with All of Your Heart'.

In this feast of entertainment, join Doddy and just suppose what life would be like if everything were topsy-turvy, or there was no such thing as different sexes. Find out who's making history in the Brown Ale Book of Records, and examine last week's news and events with the Hindsight Team. And ponder the great questions of life with Professor Chuckabutty - like, do electricians flex their muscles? Should we be ruled by Brussels, or leeks? Is tossing the caber just a clever Scotsman's way of getting a stolen telegraph pole home?

Featuring special guests including Gretchen Franklin, Jo Manning Wilson, Hugh Paddick and Talfryn Thomas, this is a star-studded extravaganza that makes 'Gone with the Wind' seem like a hiccup.
Genres: