The Kennedy Detail: JFK's Secret Service Agents Break Their Silence
Unabridged Audiobook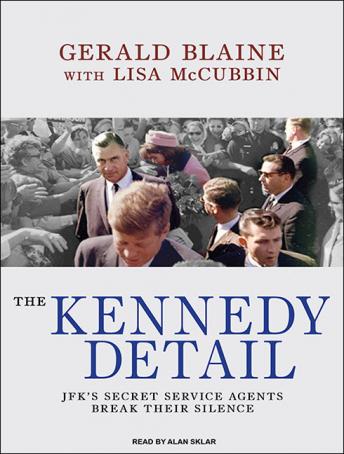 Duration:
17 hours 9 minutes
Summary:
Even today, almost five decades after John F. Kennedy was slain, the public continues to be captivated by the 'Kennedy Curse' and new theories about what really happened on that fateful day in 1963. For nearly fifty years former Secret Service agent Clint Hill has lived with the unimaginable guilt of losing a president on his watch and has obeyed an honor code of silence, refusing to contribute to any books about the assassination. Until now.

Hill was just eight feet from President Kennedy when bullets pierced the president's head right before his eyes. Covered with blood, Agent Hill pushed Jackie Kennedy into the back seat. Clinging to the trunk of the open-top limousine as it sped away from Dealey Plaza to Parkland Hospital, he slammed his fist in anger, as he looked back to the agents in the follow-up car. His eyes, filled with despair, told them what they already knew.

Including contributions from over forty agents who were on the Kennedy Detail from November 1960 to November 1963 and those who knew them, never-before-published letters written by Jackie Kennedy in the immediate aftermath of the shooting, the bizarre unpublished story about a film Jackie made in September 1963 with the on-duty Secret Service agents about an assassination of the president, and the original November 18, 1963, Tampa security report from the author's personal files, which conspiracy theorists have long claimed was destroyed by the Secret Service, The Kennedy Detail provides an unfiltered look at the events surrounding this pivotal moment in American history.
Genres: