Ketogenic Diet and Intermittent Fasting for Beginners: A Complete Guide to the Keto Fasting Lifestyle Gain the Weight Loss Clarity You Need
Unabridged Audiobook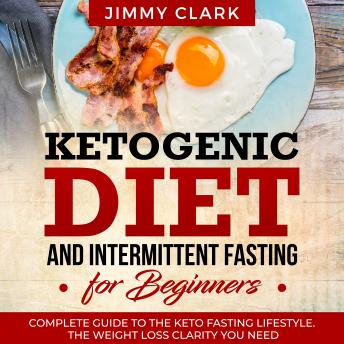 Duration:
3 hours 5 minutes
Summary:
Discover How to Maximize Your Weight Loss and Health Potential with the Science of Ketogenic Diet and Intermittent Fasting
Are you looking for a way to shed off that excess weight faster with sustained energy levels?
Do you want to maximize the benefits and accelerate the effects of being on both Ketogenic diet and intermittent fasting?
Reaching your goals does not have to be such a difficult and stressful process. Not only is there an abundance of anecdotal evidence for the health benefits and weight loss effects of the Ketogenic diet and intermittent fasting, but there are numerous studies that prove these beneficial effects as well. And, more studies are continuing to come out every day.
This guide will teach you everything to help you decide if Keto and Intermittent Fasting is right for you, how to follow it properly, and will give you tips to ensure your success. Eating less often or eating fewer carbohydrates does not have to mean you are enjoying your food less, but rather more!
Here's what you'll get from this book:
• The History and Science Behind the Ketogenic Diet
• The Health Benefits of Going Keto
• The Fundamentals of the Ketogenic Diet
• What You Can and Cannot Eat
• The History and Science Behind Intermittent Fasting
• The Fundamentals of Intermittent Fasting
• Combining Intermittent Fasting and the Ketogenic Diet
• Common Mistakes and How to Avoid Them
While crash diets come and go the Ketogenic diet has been around, helping people not only lose weight but gain health, for nearly a century. Likewise, intermittent fasting has been around for weight loss, religion, health, and as a necessity for thousands of years!
Take your time and learn why Ketogenic diet and intermittent fasting stands out when compared to other fad diets.
Grab your copy of this guide today and get started with Ketogenic and intermittent fasting lifestyle for ultimate health and wellbeing!
Genres: