Kill All the Lawyers: A Solomon vs. Lord Novel
Unabridged Audiobook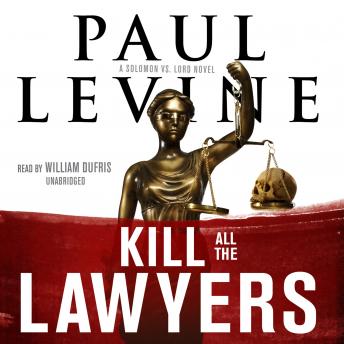 Duration:
8 hours 48 minutes
Summary:
They are the legal world's oddest couple: a shorts-and-sandals beach bum and a Coral Gables blue blood. The only thing keeping them together is that they're on the same side.

It starts with a three-hundred-pound marlin stuck in his front door. Even by South Florida standards, where murderers outnumber mosquitoes, this registers as weird. It's not long before Steve Solomon figures out who's making the bizarre death threats. But how can he explain to his partner why an ex-client wants him dead?

Victoria Lord was used to Steve's cutting legal corners to win, but breaking the law to lose was downright unethical, even for Steve. Now Solomon & Lord is being bashed on local radio and a celebrity shrink with a homicidal me-first philosophy wants to be Steve's new best friend. With a killer on the loose and legal disaster looming, is Steve's lover and law partner about to walk out on him? Is this the end of Solomon & Lord?

As the squabbling between the Miami lawyers escalates, the killer's real target catches them both off guard.
Genres: