Kill the Angel: A Novel
Unabridged Audiobook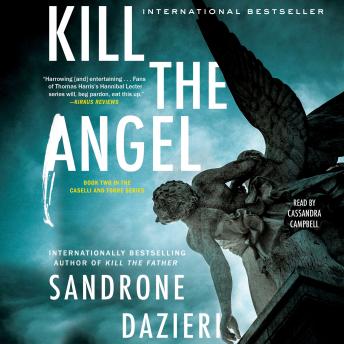 Duration:
16 hours 18 minutes
Summary:
From internationally bestselling author Sandrone Dazieri and featuring "two of the most intriguing detectives to have emerged in recent years" (Daily Mail, London) comes the "explosive" (Booklist, starred review) second thriller in the Caselli and Torre series.

In Rome, a passenger train speeds into the city's main station, its first-class car full of dead bodies, the macabre discovery of which falls to Deputy Police Commissioner Colomba Caselli. The police then receive a claim of responsibility and the threat of more murders to come. But neither Caselli nor her eccentrically brilliant ally, Dante Torre, are ready to buy the terrorist link.

As the two unconventional investigators chip away at what the perpetrator wants everyone to believe, they put their own lives in jeopardy.

But Dante's bizarre and traumatic past enables him to see what others miss, and in this case, to connect with a kindred spirit of sorts, a woman named Giltine who also experienced an intense trauma—one from which she emerged damaged and full of murderous intent. Making her especially lethal is that the rare mental illness she suffers from has her believing she's already dead.

When Colomba and Dante find themselves on the outs with law enforcement they're entirely on their own, faced with the responsibility of making sure the waters of Venice don't turn red with blood.
Genres: