King of the Gunmen
Unabridged Audiobook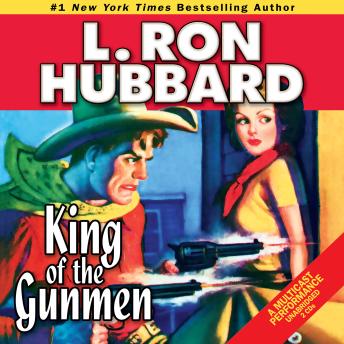 Duration:
2 hours 0 minutes
Summary:
They call him Suicide, Smoke or simply Sudden Death.  His name is Kit Gordon, and from the banks of the Mississippi to the shores of the Pacific, he is King of the Gunmen.  As tall and lean and tough as a young John Wayne, Kit's about to discover that sometimes it takes more than a quick draw and a sure aim to stand up like a man.

Falsely accused of murder and one step ahead of a lynch mob, Kit escapes to the next county over-and a whole new identity.  He changes his name and his whole outlook, teaming up with a lawman out to bring the rule of law to this untamed corner of Arizona.

But the two men are soon drawn into the middle of a bloody feud between cattle ranchers and sheepherders.  Before it's over, the battle will lead Kit to a moment of truth . . . or a lifetime of lies.  He'll have to take a stand and reveal that he's a wanted man-or turn tail and run for his life, never looking back.

Born and raised in the twilight of the Old West-from Nebraska plain to the mountains of Montana-L. Ron Hubbard grew up in the company of real cowboys and rugged frontiersmen, even becoming a blood brother to a Blackfoot medicine man. His firsthand knowledge allowed him to instill a grit and authenticity into his stories that made him one of the leading writers of Westerns, publishing a total of 34 of them by the 1950s.

Also includes the western adventure The No-Gun Gunhawk, the story of a legendary gunslinger's son who swears never to take up a gun-until he is forced to break his vow when it becomes a matter of life and death.

 Feel the heat rising off of the Arizona desert and a blazing Colt .45 as the audio version of King of the Gunmen takes you into the land of prickly pears and deadly gun fights.
Genres: