Kingdom of War: Hunter's Story
A free trial credit cannot be used on this title.
Unabridged Audiobook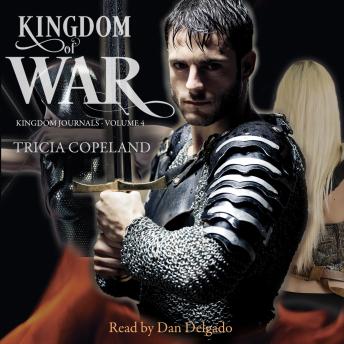 Duration:
11 hours 9 minutes
Summary:
They may be coming into their power, but victory could bring them to ultimate darkness.

Athens, 2018. Hunter has vowed to protect the witch lines with his life. As the leader of the prophesied trinity, it's up to him to restore an ancient weapon of legend to break the eternal curse. But the magic brewing in his veins has other ideas…

As the teenage trio circles the globe in search of the broken shards, a sinister coven hellbent on stopping them follows in hot pursuit. But even as Hunter manages to collect every piece, uniting them might drive everyone into the very Gates of Hell.

Can Hunter lead the chosen ones in a triumphant battle against evil?

Kingdom of War is the fourth book in the exhilarating Kingdom Journals YA urban fantasy series. If you like loyal heroes, mythical beings, and jaw-dropping twists and turns, then you'll love Tricia Copeland's non-stop thrill ride.

Buy Kingdom of War to smash the cursed chains today!
Genres: