Kissing Mr. Wrong: A Wrong Man Romantic Comedy
Unabridged Audiobook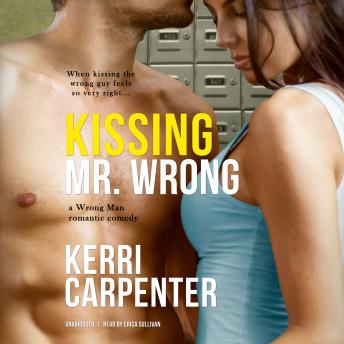 Duration:
2 hours 52 minutes
Summary:
When kissing the wrong guy feels so very right ...

Three months ago, graphic designer Vanessa Hewitt slept with the ridiculously hot guy she met after nearly falling to her death while stargazing on a bridge. The adrenaline-fueled night of we'll-never-see-each-other-again sex fulfilled every fantasy, but with her best friend's wedding on the horizon, Vanessa can't stop thinking about what would happen if her sexy stranger passed through town again.

Haunted by his time in Afghanistan, soldier John Campbell returns to his sister's town just long enough to help plan an engagement party for her. When he realizes her best friend is the sweet one-night stand he's been fantasizing about for months, he'll do anything to have her again ... though getting trapped together in a storeroom wasn't quite what he had in mind.

Vanessa is in hell. Or is it heaven? Because with every touch, their forbidden connection grows, until kissing Mr. Wrong starts feeling more like kissing Mr. Right ...
Genres: