Knife Music
Unabridged Audiobook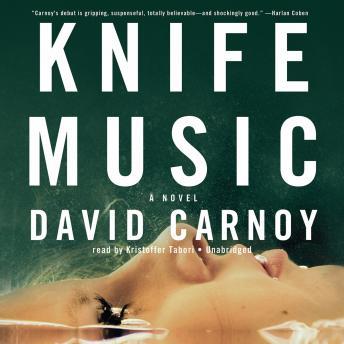 Duration:
10 hours 56 minutes
Summary:
Kristen Kroiter was sixteen, a high school sophomore, when she was injured in a car accident. Dr. Ted Cogan had saved her life when he treated her in the ER six months ago. But now police detectives were questioning Cogan about her, in intimate detail. What was going on? What had she told them?
That's just it, the cops said. She hadn't told them anything. She had died. Looked like a suicide. And Cogan was in a heap of trouble.
Tense and twisting, Knife Music is the story of a doctor struggling to clear his name after being accused of raping and causing the suicide of a young girl. The novel pits Cogan, a forty-three-year-old surgeon and self-described womanizer, against Hank Madden, a handicapped veteran detective. From the outset it's not clear who is victim and who is victimizer, as the usually dispassionate Madden grapples with his long-suppressed prejudices and his obsession with bringing Ted Cogan to justice at any cost. It all leads up to the most stunning surprise ending since Scott Turow's Presumed Innocent.
Genres: