The Kybalion: The Masterwork of Esoteric Wisdom for Living With Power and Purpose
Abridged Audiobook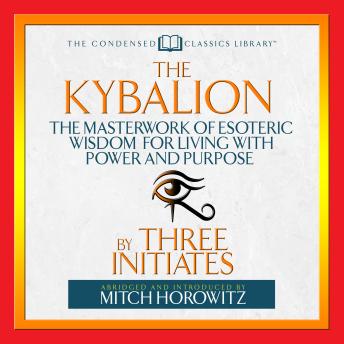 Duration:
2 hours 1 minutes
Summary:
The Transformational Occult Classic-Now in a
Special Abridged Edition with a New Introduction

Since its first appearance on the American metaphysical scene in 1908, The Kybalion has been a source of wisdom, wonder, and practical advice. Its esoteric insights, drawn from the Hermetic traditions of Ancient Egypt and Greece, present a complete philosophy of life.

Now, historian and New Thought scholar Mitch Horowitz reintroduces this landmark work in a razor-sharp condensation that contains all the wisdom of the original, but provides a special entry point for newcomers and a touchstone for long-time readers and listeners who want a refresher in the book's insights.

This condensation of The Kybalion will enhance your understanding of the original, as it zeroes in on the book's most transformative points, and Mitch's introduction explains and contextualizes the work's enduring power.
Genres: