Lady Bird Johnson: Legacy of a First Lady
Unabridged Audiobook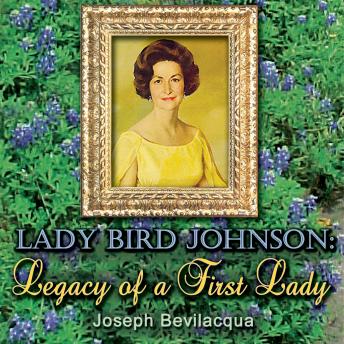 Duration:
0 hours 59 minutes
Summary:
As heard on Sirius XM Radio and NPR stations!
LadyBird Johnson: Legacy of a First Lady was written, produced, directed, andnarrated by veteran NPR producer Joe Bevilacqua. One of the most licensedaudiobooks on The Public Radio Exchange and iTunes, it is Bevilacqua's award-winningaudio documentary examining the challenges and achievements of thisextraordinary woman. The hour combines never-before-released archive audiogleaned from thousands of hours of recordings from the Lyndon Baines JohnsonLibrary and Museum, period news broadcasts, private conversations with LyndonBaines Johnson, and the words of Lady Bird Johnson from an interview that hasnever before been released to the public.
Bevilacqua spent nearly five monthslistening to the rare tapes and traveled to Washington, DC, to interview Mrs. Johnson'scolleagues and friends. The program features Lyndon Johnson Administrationstaffers Liz Carpenter, Bess Abell, and Nash Castro; Washington Post ownerKatherine Graham; Lyndon Baines Johnson Library and Museum director HarryMiddleton; Lady Bird Johnson Wildflower Center director Robert Glass Breunig;Lady Bird biographer Jan Jarboe Russell; and first ladies Betty Ford andBarbara Bush. Other voices heard on the program include Kirk Douglas and HelenHayes reading from LBJ's and Lady Bird's love letters. The production wasproduced in association with KUT Radio in Austin, Texas, and overseen by apanel of scholars and experts, including Lewis Gould, retired University ofTexas (UT) at Austin professor of history; Walt Rostow, UT professor emeritus;Elspeth Rostow, former dean of the UT LBJ School of Public Affairs; CarlAnthony, Washington, DC, historian; and Don Carleton, director of the Centerfor American History at UT.
Genres: