The Last Boyfriend
Unabridged Audiobook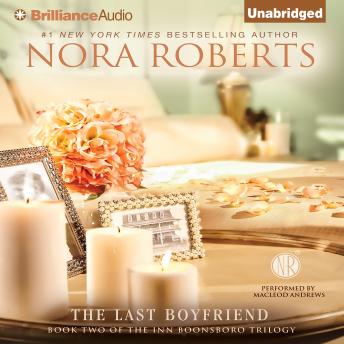 Duration:
10 hours 42 minutes
Summary:
Owen is the organizer of the Montgomery clan, running the family's construction business with an iron fist—and an even less flexible spreadsheet. And though his brothers give him grief for his compulsive list making, the Inn BoonsBoro is about to open right on schedule. The only thing Owen didn't plan for was Avery MacTavish.…Avery's popular pizza place is right across the street from the inn, giving her a firsthand look at its amazing renovation—and a newfound appreciation for Owen. Since he was her first boyfriend when they were kids, Owen has never been far from Avery's thoughts. But the attraction she's feeling for him now is far from innocent.As Avery and Owen cautiously take their relationship to another level, the opening of the inn gives the whole town of Boonsboro a reason to celebrate. But Owen's hard work has only begun. Getting Avery to let down her guard is going to take longer than he expected—and so will getting her to realize that her first boyfriend is going to be her last.…"No one writes relationships as well as Ms. Roberts, with the subtleties and quirkiness of the give-and-take of friendship and romance." —Fresh Fiction
Genres:
4 of 4 people found this review helpful.

1 of 1 people found this review helpful.