The Last Cavalier: Being the Adventures of Count Sainte-Hermine in the Age of Napoleon
Unabridged Audiobook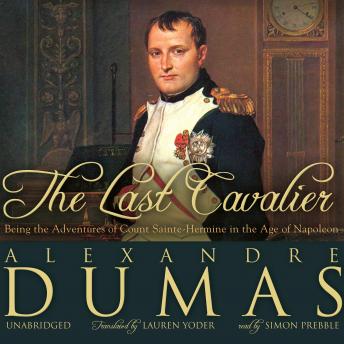 Duration:
35 hours 37 minutes
Summary:
The discovery of Dumas's last, incomplete novel, lost and completely unknown to historians for more than a century, was a literary bombshell. The Last Cavalier is Dumas's swan song, a rousing adventure that completes his epic retelling of French history from the Renaissance (La Reine Margot) to his present day (The Count of Monte Cristo) by filling in that one vital, dramatic era that was missing: the Age of Napoleon.

A tale of family honor and heroic derring-do, The Last Cavalier follows the fortunes of young Hector, Count de Sainte-Hermine, who has sworn an oath to avenge his Royalist family members' deaths by fighting against Napoleon. When he is defeated, he is sentenced to serve as a common soldier in Napoleon's imperial forces. Though he courts death fearlessly, Hector's daring deeds will change his destiny-and Napoleon's.

It is rousing, big spirited, its action sweeping across oceans and continents, its hero gloriously indomitable. This newly discovered lastnovel of Alexandre Dumas, lost for 125 years in the archives of the National Library in Paris, completes the Dumas oeuvre.
Genres: