The Last Commandment
Unabridged Audiobook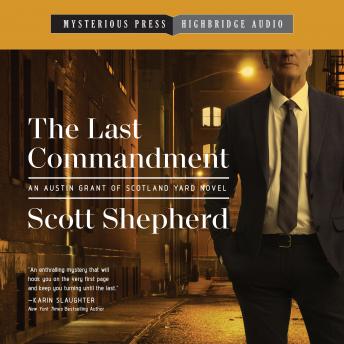 Duration:
9 hours 42 minutes
Summary:
A Scotland Yard detective tracks a serial killer from London to New York City

Christmastime in London. When three seemingly unconnected victims are murdered with matching sequential Roman numerals carved into their foreheads, Metropolitan Police Commander Austin Grant finds his answer in one of the last places he'd expect: the Holy Bible. Each of the deaths correspond to a transgression of one of the Ten Commandments, and Grant must find the killer before the remaining Commandments are commemorated with homicides.

Unfortunately for Grant, the next victim with a number on their forehead turns up not in London, but across the pond at the iconic St. Patrick's Cathedral in New York City, turning this English murder case into a transatlantic manhunt spanning two global metropolises, each with its own rich history and culture. Commander Grant must team up with a charming NYPD detective named John Frankel, as well as his own estranged daughter Rachel-a cunning investigative reporter with conflicting feelings about her father.
Genres: