Late to the Ball: Age. Learn. Fight. Love. Play Tennis. Win.
Unabridged Audiobook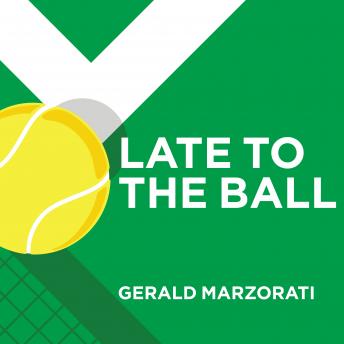 Duration:
6 hours 50 minutes
Summary:
Being a man or a woman in your early sixties is different than it was a generation or two ago, at least for the more fortunate of us. We aren't old . . . yet. But we sense it coming: Careers are winding down, kids are gone, parents are dying (friends, too), and our bodies are no longer youthful or even middle-aged. Learning to play tennis in your fifties is no small feat, but becoming a serious, competitive tennis player at the age of sixty is a whole other matter. It requires training the body to defy age, and to methodically build one's game-the strokework, footwork, strategy, and mental toughness.

Gerald Marzorati started playing the game seriously in his mid-fifties. He had the strong desire to lead an examined physical life, to push his body into the 'encore' of middle age. In Late to the Ball Marzorati writes vividly about the difficulties, frustrations, and the triumphs of his becoming a seriously good tennis player. He takes on his quest with complete vigor and absolute determination to see it through, providing a rich, vicarious experience involving the science of aging, his existential battle with time, and the beautiful, mysterious game of tennis.
Genres: