Leadership Rules: How to Become the Leader You Want to Be
Unabridged Audiobook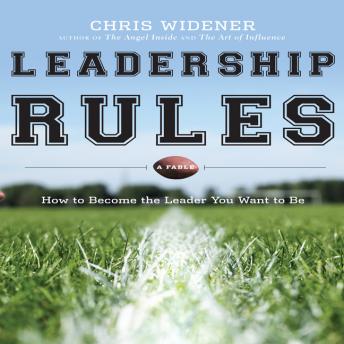 Duration:
2 hours 5 minutes
Summary:
From Chris Widener, the best-selling author of The Angel Inside and The Art of Influence, comes an audio book about hard-won leadership lessons. Set deep in the heartland, this compelling business fable follows downcast protagonist Mike Keller, who having been demoted at work and recently separated from his wife, is forced to relocate to a rural factory town in Texas. There Mike encounters the deep-rooted traditions of Texas high school football, and in the process learns everything business school didn't teach him about leadership from the most influential man in town - the local high school football coach. At the heart of the book, Leadership Rules clearly shows "what you give and get" when you lead through the Four Rules of Leadership:
YOU GET WHAT YOU EXPECT
YOU GET WHAT YOU MODEL
YOU GET WHAT YOU REWARD
YOU GET WHAT YOU WORK FOR
While the story takes place in the dusty Texas plains, the book's leadership lessons can be applied to anyone's work life or personal circumstances no matter where they are rooted. Leadership rules in the boardroom, in the classroom, and on the football field, and this engaging, accessible story will help everyone improve their ability to lead and make a difference in the lives of their followers.
Genres: