Learn Chinese: A Comprehensive Guide to Learning Chinese for Beginners, Including Grammar, Short Stories and Popular Phrases
A free trial credit cannot be used on this title.
Unabridged Audiobook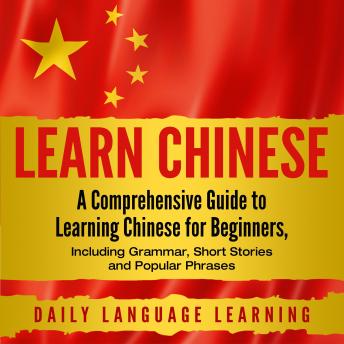 Duration:
13 hours 15 minutes
Summary:
If you want to learn Chinese fast and in a variety of fun ways that actually work then pay attention..

This audiobook includes 3 comprehensive Chinese manuscripts in 1 audiobook:


- Chinese: Learn Mandarin Chinese for Beginners: A Simple Guide That Will Help You on Your Language Learning Journey
- Chinese Short Stories: 11 Simple Stories for Beginners Who Want to Learn Mandarin Chinese in Less Time While Also Having Fun
- Chinese Phrase Book: Over 1000 Essential Mandarin Phrases You Don't Want to Be Without on Your Trip to China

Some of the topics covered in part 1 of this audiobook include:


- Chinese Tones
- Basic Chinese Grammar
- How to Count
- How to be polite when speaking Chinese
- Greeting and Introduction
- Daily Life and Social Activity
- And much, much more

In part 2, you will get 11 simple and captivating short stories that will ignite your imagination so you can learn Chinese quickly and easily.

Some of the topics for phrases covered in part 3 of this audiobook include:


- Exchanging Money
- Buying
- Drinks and Snacks
- In the Cafeteria
- The Noodle Stand
- In the Restaurant
- In the Market
- In the Bookstore
- Taking the Taxi
- On the Train
- Asking for Directions
- Asking for the Time
- Making an Appointment
- And much, much more

So if you want to learn the Chinese language fast and without having to go through a boring textbook, scroll up and click the 'add to cart' button!
Genres: