Leon and the Champion Chip
Unabridged Audiobook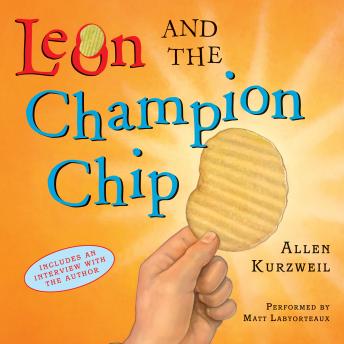 Duration:
7 hours 30 minutes
Summary:
Leon's back. Having survived the sweatshop methods of Miss Hagmeyer, his needle-wielding fourth grade teacher at the Classical School, Leon braces himself for fifth grade. He arrives armed with a backpack full of pens and pencils, binders and notebooks . . . plus a rag doll that's the spitting image of Henry Lumpkin, the bully who has Leon in his sights. If the doll works the way it's supposed to, Leon (and his buddies P.W. and Lily-Matisse) won't have to worry about Lumpkin the Pumpkin!

Better still, Leon has a fabulous new teacher, Mr. Sparks, who conducts science experiments using that most miraculous of research materials -- the potato chip. And a good thing, too. Mr. Sparks's lab work will come in handy when Leon is forced to take on Alphonse 'The Chippopotamus' Cipollini at the annual Chipapalooza! Chip-Off.

Once you've sunk your teeth into Leon and the Champion Chip, the hilarious sequel to Leon and the Spitting Image, you'll never eat potato chips the same way again!
Genres: