Leven Thumps and the Gateway to Foo
Unabridged Audiobook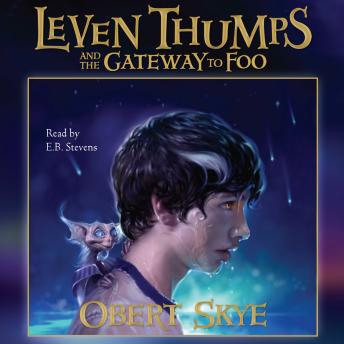 Duration:
10 hours 16 minutes
Summary:
Fourteen-year-old Leven Thumps lives a wretched life in Burnt Culvert, Oklahoma. But his life is about to change and his destiny be fulfilled as he learns about a secret gateway that bridges two worlds -- the real world and Foo, a place created at the beginning of time in the folds of the mind that makes it possible for mankind to dream and hope, aspire and imagine.

But Foo is in chaos, and three transplants from that dream world have been sent to retrieve Leven. Their mission: to convince Leven Thumps that he alone has the unique power to save Foo. Can Leven even find the gateway in time? Will belief overcome doubt? Will fate make up the difference?

This unabridged production performed by E.B. Stevens, using more than two dozen character voices, is a story about courage, destiny, and the power of believing one's self. Welcome to Foo!
Genres: