Lie With Me
Unabridged Audiobook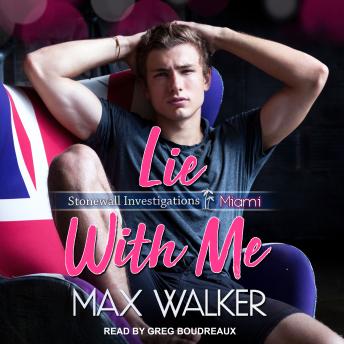 Duration:
8 hours 54 minutes
Summary:
Oliver Brightly

I'm halfway across the world in a bar in London celebrating my last year of vet school when I spot the sexiest silver fox I've ever seen. We flirt, we kiss, and I have one of the best nights of my life. I'm sure I'll never see him again, which is why I don't give him my real name.

Weeks later, I walk into Stonewall Investigations in Miami looking for help and who do I find? A certain silver-haired fox with a cocky grin and an accent that makes my knees melt.

Beckham Noble

I went back to London so I could bury my father and put our rocky past to rest. Drinking the evening away at a pub would be the emotionally therapeutic thing to do. That's where I met one of the most interesting and attractive guys I'd ever chatted with, one I wanted to get to know from his head to his toes. One I was sure I would never see again.

Cut to three weeks later, when the object of my intense desire walks into my office looking for help with a murder that had been haunting him for years.

Contains mature themes.
Genres: