Lieberman's Choice
Unabridged Audiobook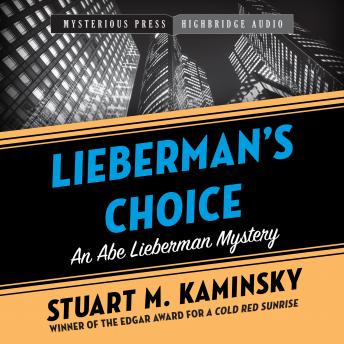 Duration:
5 hours 38 minutes
Summary:
Two Chicago cops need to defuse an explosive situation in this 'tightly plotted' police procedural (Chicago Tribune).

After killing his wife and her lover, an unhinged and heavily armed Chicago cop named Bernie Shepard barricades himself at the top of a high-rise apartment building and sends a message to the police: meet his demands, or he'll detonate enough explosives to blow the whole block sky high.

If it's a choice between chewing the fat at his brother Maish's deli or hunting down armed lunatics, world-weary veteran cop Abe Lieberman knows where he stands. But no one's giving him a choice. It's up to Lieberman and his longtime partner, Bill Hanrahan-a.k.a. the Rabbi and Father Murphy-to play Bernie's game, betting their lives on a madman's whim.

With a crazed cop holding 'enough explosives to blow the North Side of Chicago to kingdom come . . . Kaminsky mines plenty of suspense' (The New York Times Book Review).
Genres: