The Lies About Money: Achieving Financial Security and True Wealth by Avoiding the Lies Others Tell Us-- And the Lies We Tell Ourselves
Abridged Audiobook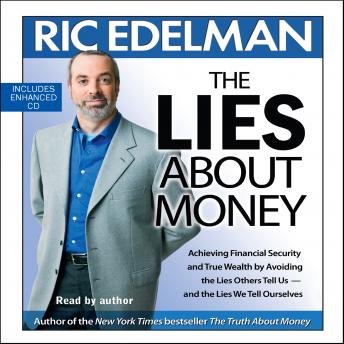 Duration:
5 hours 58 minutes
Summary:
Ric Edelman, #1 bestselling author of Ordinary People, Extraordinary Wealth, and the personal finance classic The Truth About Money, offers more great wisdom for investors—and a valuable insert of sample portfolios that outline everything you need to know about building the perfect portfolio.

Ric Edelman has helped more people achieve financial success than any other practicing financial advisor. Now, Ric reveals the deceptive and manipulative business practices occurring in your retail mutual funds—practices that are causing you to suffer higher fees, greater risks, and lower returns than you realize. In The Lies About Money, he offers you a detailed yet easy-to-follow plan that lets you take back control of your investments—and your financial future.

Here, Ric shares his most valuable lessons gained through two decades of working directly with individuals and families. He reveals the lies that have infiltrated your retail mutual funds and retirement accounts and teaches you how to invest your money in your employer retirement plan; how to save for college; and for those who are retired, how to generate more income without sacrificing security. He shows you that proper money management has nothing to do with "hot tips" and everything to do with scientific analysis, bolstered by solid academic research and historical data. Along the way, Ric shows you the secrets to investment success—a long-term focus, the importance of diversification, and the crucial need for (and methods of) portfolio rebalancing.

With insight and strategies that will change people's lives, The Lies About Money offers the truth that everyone is looking for.
Genres: