Lies That Comfort and Betray
Unabridged Audiobook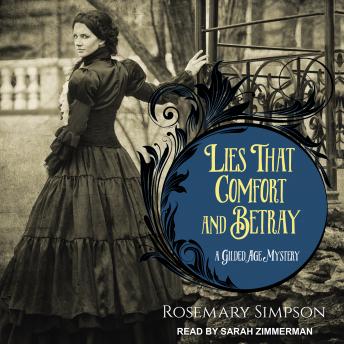 Duration:
12 hours 33 minutes
Summary:
The murders in Whitechapel are shocking enough to make news worldwide, and in the autumn of 1888, Geoffrey and Prudence find the stories in the New York Herald quite unsettling. But London is not the only city to be terrorized by a mad butcher.

Nora Kenny makes the occasional journey on the Staten Island ferry to work in Prudence's Fifth Avenue house, just as her mother once served Prudence's mother. As little girls, they played freely together, before retreating into their respective social classes. Still, they remain fond of each other. But when Nora slips away to Saint Anselm's one chilly Saturday to confess her sins and never returns, Prudence is alarmed. And when Nora's body is discovered in a local park, Prudence is devastated.

Nora will not be the only young woman to fall victim, but the police are uncertain what they are dealing with. Has the Ripper sailed across the Atlantic to find a new hunting ground? Is some disturbed soul copying his crimes? A former Pinkerton agent, Geoffrey intends to step in where the New York Metropolitan Police seem to be failing, and Prudence is just as determined to protect the poor, vulnerable females being targeted. But a killer with a disordered mind and an incomprehensible motive may prove too elusive for even this experienced pair to outwit.
Genres: