Life Lessons from the Mat: Stories about building character through martial arts
A free trial credit cannot be used on this title.
Unabridged Audiobook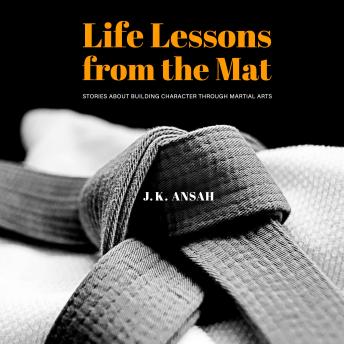 Duration:
1 hours 0 minutes
Summary:
You discover who you really are when you can stand in front of and stare down a punch or kick coming at full speed without pissing your pants.

 

It's the kind of confidence you get when you really understand what you're capable of. In this book, I share stories of times when I've fallen and gotten back up. Times when fear got the better of me and a few other lessons I learned along the way—through the guidance and wisdom of those who came before me. While my experiences are unique to me, the values and lessons learned along the way are transformative. They can make you feel down right superhuman and the friendships you make are forever. I hope my journey and these stories can help you no matter what point you are in your life. So, if you're ready to listen, I'm ready to talk.

 

Discover the following values in these stories:


- The value of taking action and being decisive
- Making time for the things we care about
- Recognizing your own truth and power
- Never letting your ego get the better of you
- The value of your word
- Learning to be comfortable where others are not
- Perseverance and developing the will to push through

 

By revealing my thoughts and feelings at various points in my journey, I'm hoping you'll find these stories entertaining and will at the very least make you ask different questions about yourself. Questions you may not have asked before. You'll see that sometimes when you lack faith in yourself, trusting in someone else and their belief in you can give you the spark you need to break through. I started my journey in the martial arts as a kid and to this day I'm continually evolving. I know more than I knew back then but still not as much as I'll know tomorrow.

 

Start with these quick little stories of lessons gained from this ancient art form. Let them help transform and shift your mindset to change your personal and business life today.
Genres: