Life on Your Terms: A Rough Guide for Discovering your True Path
A free trial credit cannot be used on this title.
Unabridged Audiobook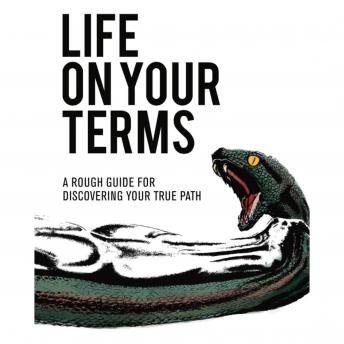 Duration:
8 hours 20 minutes
Summary:
Have you ever sat down and pondered – is this really it? Is this how my life is going to pan out? Or do you have a feeling of slight inner discontent, that feeling of the conforming rat-racer stuck on the perpetual wheel of the shallow hedonic treadmill? The treadmill of instant gratification and momentary pleasure but the path that lacks meaning and true spiritual Joy with a capital J. Do you feel that you are drifting into the Wasteland of dead ambition, to paraphrase the master Joseph Campbell, a life that is caught up in the simulation of the Matrix? Keanu Reeves wasn't joking when he mentioned that the iconic film was perhaps more of a documentary than a Hollywood figment of imagination. Are you looking for some guidance in regards to the deeper, more poignant questions in life, some food for thought to chew on? Are you a recent school leaver unsure with what to do with your life? Are you stuck in an unfulfilling career or unsatisfied with the status quo? Or do you simply enjoy delving into the realm of ancient wisdom, higher consciousness, mythology, the love of travel and the greater School of Life? If this at all describes you or how you feel, then you will not be disappointed with Life On Your Terms. I wish I had this book at my disposal a decade or so ago, but alas, wisdom and real-world knowledge has to be earned through time, trial and error. Henceforth, this book is my gift to you. It is my labour of Love. If you feel that you are off course, then Life On Your Terms will help to realign your compass with your Guiding Star. It will assist you in rediscovering the direction of your True Self. My hope is that this book may be the first step in your path to awakening from the Illusion, an instruction manual of sorts outlining how to break free from the shackles of our great domestication. It's time for you to accept your very own call to adventure, to cross the threshold and embrace your own Hero's Journey, the journey of your warrior spirit.
Genres: