The Lifestyle Lowdown: A Short History of the origins of World War 1
Unabridged Audiobook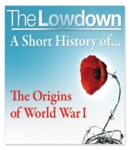 Duration:
1 hours 9 minutes
Summary:
A concise history of the origins of the "war to end all wars"

Many of us know that the first world war began when Archduke Franz Ferdinand of Austria and his wife were assassinated in Sarajevo in June of 1914. But have you ever wondered exactly what chain of events led up to the incident that caused the whole world to erupt into one of the bloodiest conflicts in our history?

Why, amidst all the tensions in early twentieth century Europe, did this particular incident in Sarajevo lead to Austria delivering an unacceptable ultimatum to Serbia, which would lead to Russia mobilising in support of Serbia, Germany in support of Austria, and then France and Britain in support of Russia?

Expert military historian and lecturer John Lee explains the causes behind the origins of the war and gives us a unique insight into the unfolding drama that defined and shaped a generation – and generations to come.

This book gives an insight into:
- The struggle to maintain the 'balance of power' in a Europe convulsed with change
- The crippling cost of the arms race to preserve 'peace through strength'
- The constant stream of crises as two ancient empires were about to unravel
- The brash 'new kid on the block' who decided that the old order had to go, and was just waiting for the right 'excuse'.
Genres: