A Lifestyle of Seer Encounters: A Feature Teaching From Seeing Behind the Veil
A free trial credit cannot be used on this title.
Unabridged Audiobook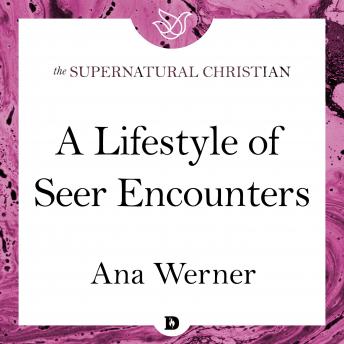 Duration:
1 hours 51 minutes
Summary:
Today You Are Invited…
Your routine is calling. So is your personal invitation to step behind the veil and encounter the Holy Spirit. Will you answer?
From her unique experiences, seer, prophet and missionary Ana Werner shares insights she has received through prophetic encounters, visions and angelic visitations. Her first angelic encounter came at age five!
Seeing Behind the Veil (book). This in-depth look at Ana's personal history of God encounters is meant to change your perspective! Then she adds more powerful teaching on her 3-CD series, A Lifestyle of Seer Encounters. From both Scripture and prophetic words, Ana offers seasoned insights on:

• Dwelling in God's Presence: living with a consistent awareness of the Holy Spirit's nearness.
• Spiritual warfare: how winning spiritual battles impacts your everyday life.
• Amplifying God's voice: positioning yourself to hear God's words.
• Comfort, strength and courage: for your daily challenges.
• Angelic activity: how to partner with the Heavenly hosts to release God's plans for you.

Ana says we can choose to live exclusively in the physical realm. But good things await those who do not! You only get to do today once. Will you answer?
?

Seer Ana Werner has gone to heaven many times, and she's learned how the spirit world operates. Can you imagine seeing the unseen cause of trouble? Now imagine how much victory is yours!
Genres: