The Lilac Code
Unabridged Audiobook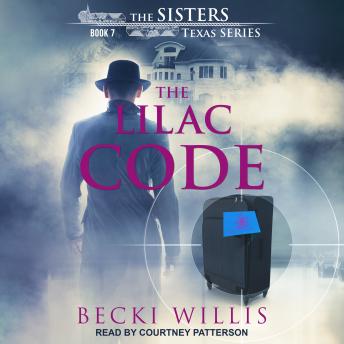 Duration:
5 hours 52 minutes
Summary:
Will a case of mistaken identity be the death of her?

Madison Reynolds is looking forward to a few days of rest and relaxation. Her best friend Genny is judging a celebrity bake-off near DC, so it's the perfect opportunity for a girl's getaway. With fun-loving Granny Bert in tow, the trio heads to the very heart of the Intel community.

A mix-up at the airport leaves Madison with the wrong luggage, and a last-minute change in accommodations lands them at The Columbia Inn at Peralynna. How can they know its ties to the spy world will soon spin them into its web?

The stories of espionage and agents are intriguing, but too incredible to be real. The Texans know nothing about secret codes and counterintelligence. They've never heard of The Lilac Code, or the illusive agent-for-hire known simply as Kalypso.

Back home in The Sisters, a drama is unfolding that involves Madison's precious twins. She's raised them to do the right thing, no matter the consequence, but will their quest for justice put them in danger?

The twins risk everything to save their school, while deep in spy territory, Madison and Genny race against the clock-and the elements-to save Granny Bert's life.
Genres: