Lincoln and Churchill: Statesmen at War
Unabridged Audiobook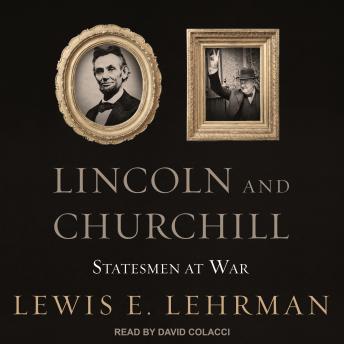 Duration:
17 hours 6 minutes
Summary:
Abraham Lincoln and Winston Churchill, as commanders in chief, led their nations to victory-Lincoln in the Civil War, Churchill in World War II. They became revered leaders-statesmen for all time. Yet these two world-famous war leaders have never been seriously compared at book length. Acclaimed historian Lewis Lehrman, in his pathbreaking comparison of both statesmen, finds that Lincoln and Churchill-with very different upbringings and contrasting personalities-led their war efforts, to some extent, in similar ways. As supreme war lords, they were guided not only by principles of honor, duty, freedom, but also by the practical wisdom to know when, where, and how to apply these principles. They made mistakes which Lehrman considers carefully. But the author emphasizes that, despite setbacks, they never gave up.

Even their writings and speeches were swords in battle. Gifted literary stylists, both men relied on the written and spoken word to steel their citizens throughout desperate and prolonged wars.

Both statesmen unexpectedly left office near the end of their wars-Lincoln by the bullet, Churchill by the ballot.
Genres: