Lion of Liberty: Patrick Henry and the Call to a New Nation
Unabridged Audiobook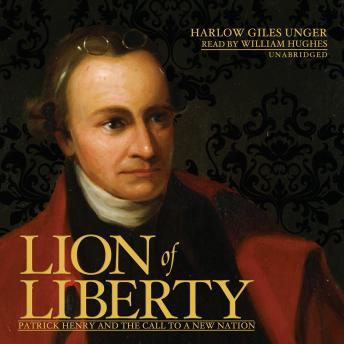 Duration:
9 hours 32 minutes
Summary:
Known to generations of Americans for his stirring call to arms, "Give me liberty or give me death," Patrick Henry is all but forgotten today as the first of the Founding Fathers to call for independence, the first to call for revolution, and the first to call for a bill of rights. If Washington was the "Sword of the Revolution" and Jefferson, "the Pen," Patrick Henry more than earned his epithet as "the Trumpet" of the Revolution for rousing Americans to arms in the Revolutionary War. Henry was one of the towering figures of the nation's formative years and perhaps the greatest orator in American history.
To this day, many Americans misunderstand what Patrick Henry's cry for "liberty or death" meant to him and to his tens of thousands of devoted followers in Virginia. A prototype of the eighteenth- and nineteenth-century American frontiersman, Henry claimed individual liberties as a "natural right" to live free of "the tyranny of rulers"-American as well as British. Henry believed that individual rights were more secure in small republics than in large republics, which many of the other Founding Fathers hoped to create after the Revolution.
Henry was one of the most important and colorful of our Founding Fathers-a driving force behind three of the most important events in American history: the War of Independence, the enactment of the Bill of Rights, and, tragically, as America's first important proponent of state's rights, the Civil War.
This biography is history at its best, telling a story both human and philosophical. As Unger points out, Henry's words continue to echo across America and inspire millions to fight government intrusion in their daily lives.
Genres: