The Little Book of Alternative Investments: Reaping Rewards by Daring to be Different
Unabridged Audiobook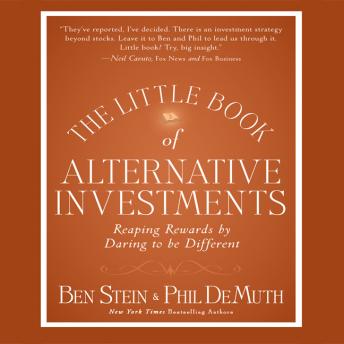 Duration:
5 hours 39 minutes
Summary:
Are you underwhelmed with the way your traditional 60/40 portfolio has been performing lately and wondering why? Do you suspect there might be better ways to invest your money, but aren't sure what they are? What about all those 'alternative' investments you keep hearing so much about in the media, such as commodities, real estate, emerging market funds, and, of course, that darling of pirates, Medieval monarchs, and radio talk-show hosts everywhere: gold? And how about the legion of new financial products Wall Street keeps spawning like kudzu-exotic creatures with strange-sounding names like 'replicants,' '100/30s,' and 'buy/write' funds? How do they work, and do any of them make sense for you?
The Little Book of Alternative Investments gives you complete, detailed answers to all those questions-and a whole lot more. Like a pair of trusty native guides, bestselling investment authors Ben Stein and Phil DeMuth clear a path through the alternative investments jungle. They identify the flora and fauna, stopping along the way to tell you which ones are safe to consume and which ones will consume you, if given half a chance. And they explain in plain English, not Wall Street Swahili, how each product or class of products works (or doesn't work), and how each can be used to help you reduce risk and boost returns.
Just as important, if not more so, Ben and Phil arm you with proven portfolio management strategies that take full advantage of the best of the best alternative products out there. No matter what your budget, level of experience, or tolerance for risk, you'll discover how to use everything from REITs and futures to hedge funds and hedge fund-like mutual funds to shield your money from the bubble-and-bust, hurly-burly of the markets and come out ahead, in all economic climates.
Making the technical simple, the arcane accessible, and the dry laugh-out-loud funny, The Little Book of Alternative Investments is your guide to taming the alternative investments jungle and cultivating an investment portfolio that consistently delivers better-than-market risk-adjusted performance.
Genres: