Little Known Facts: Molly Ringwald: Interview With Molly Ringwald
A free trial credit cannot be used on this title.
Unabridged Audiobook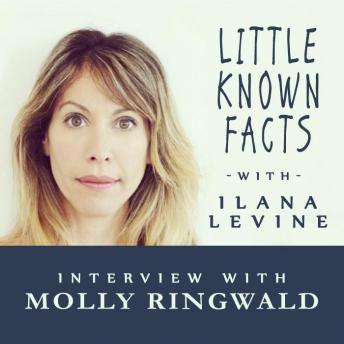 Duration:
0 hours 39 minutes
Summary:
Molly Ringwald, international movie star, gets candid with Ilana about how she has handled a lifetime of fame, growing up with a blind parent ,why she won't let her kids act and more. Molly began her film career at the age of 13 in Paul Mazursky's Tempest, for which she received a Golden Globe nomination. She went on to star in numerous films, including The Pick-Up Artist, For Keeps, Fresh Horses, Betsy's Wedding, Cindy Sherman's directorial debut Office Killer, Billy Bob Thornton's short film Some Folks Call It a Sling Blade, and the iconic movies Sixteen Candles, The Breakfast Club, and Pretty in Pink. In 1992, Ms. Ringwald moved to Paris and acted in such foreign films as Tous Les Jours Dimanches, Enfants de Salaud, and Jean-Luc Goddard's King Lear. Her television credits include the critically-acclaimed comedy series Townies, Stephen King's The Stand, the Emmy-nominated Allison Gertz Story, and the movie Molly: An American Girl, based on the American Girl series. In 1997, Ms. Ringwald moved to New York City, where she starred in Paula Vogel's Pulitzer Prize winning How I Learned to Drive, a role she reprised at the Mark Taper Forum in Los Angeles. Subsequent theater credits include playing the legendary "Sally Bowles" in the Broadway production of Cabaret; the Tony-nominated Broadway production of Enchanted April; and the London production of When Harry Met Sally. She created the role of Horton Foote's Lily Dalein the NY off-Broadway production, performed the role of Salome (with Al Pacino), starred in Jonathan Larson's musical Tick, Tick…Boom!, the hit comedy Modern Orthodox, and a national theater tour of the Bob Fosse musical Sweet Charity. Molly was in the comedy TV show Raising Expectations, created by Tom Saunders (Arrested Development) which premiered on The Canadian Family Channel in May 2016. She starred in The Secret Life of the American Teenager on ABC Family, and was in the Blumhouse feature Jem and the Holograms, directed by Jon Chu, and the comic indie Bad Night. Molly can be seen in Justin Kelly's film King Cobra, which premiered at The 2016 Tribeca Film Festival. Molly recently guest starred on Bravo's Odd Mom Out. Ms. Ringwald is the author of the national bestsellers, Getting the Pretty Back and When It Happens to You, and her writing has appeared in the New York Times, Vogue, Salon, Esquire, Allure, Tin House, the New York Times Book Review, and the Guardian, where she pens a weekly advice column.
Genres: