Living in Favor, Abundance and Joy
Unabridged Audiobook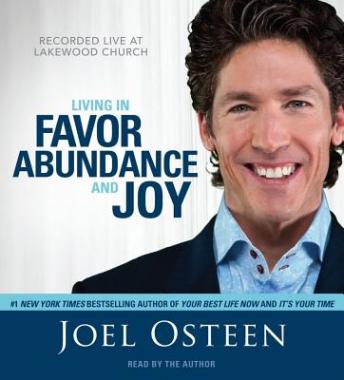 Duration:
5 hours 0 minutes
Summary:
AVAILABLE ONLY ON AUDIO…TEN OF JOEL OSTEEN'S MOST INSPIRING SERMONS, RECORDED LIVE AT LAKEWOOD CHURCH!

To live in God's favor is to live a life filled with hope, abundance and joy. God has a new beginning in store for you! Whatever difficulties you've faced, God uses your challenges to stretch you and enlarge your vision to move beyond disappointments and experience his blessings. In this audio series Joel Osteen shares valuable keys that will help you live in faith, stand strong and overcome anything that comes against you.

Capturing the unique excitement of Lakewood Church's weekly services and broadcasts, Living in Favor, Abundance and Joy collects material from three of the most popular volumes of live recordings offered on the Lakewood website. You'll hear Joel Osteen's distinct and effective mix of spiritual perspectives on real-world challenges, including:

- Letting go of the past
- Taking the limits off of God
- Being grateful for the gift of today
- Having a relaxed and easy-going attitude
- Controlling your moods
- Holding on to your joy

Don't settle for the status quo. God says that you are going to have the most peace, the most fulfillment. You may not have seen it yet, but if you make room, you will not lack in any area.
Genres: