Lost and Turned Out
Unabridged Audiobook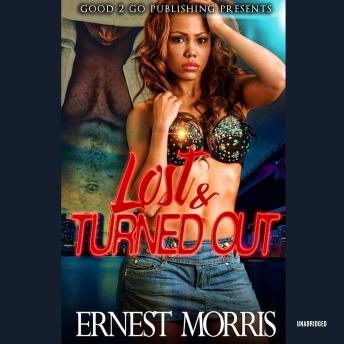 Duration:
6 hours 40 minutes
Summary:
Lost to the streets ... lost forever.

This is the story of Chastity. Born into poverty to an addict mother who was eventually claimed by her addiction to drugs, Chastity is then taken in by her grandmother, the only person to ever really love Chastity like her own. But her sudden passing would leave Chastity alone, yet again. Chastity's uncle would then step forward. Offering to take her in. An arrangement that quickly dissolves when Chastity begins to blossom. As her body changes, her uncle begins to see her as more than just a niece. A repulsed Chastity refuses his advances. Which leads to him throwing her out.

On her own once more, Chastity meets a handsome young hustler named Hakeem. He treats Chastity like a queen, and as their relationship deepens, he eventually becomes her "first." Unfortunately, the law catches up with her beau, and with him gone so are her means of financial support. Chastity tries her hand at stripping for awhile, but her minor status makes it a brief stint.

Again, lacking funds, Chastity soon meets some new friends who introduce her to a trafficker named Nasty. This leads to Chastity and the gang becoming players in the Florida drug trade. A move which quickly opens a major new revenue stream for her. The new "job" is paying dividends, and Chastity has gotten a taste of the life once more. Only this time she'll make sure it's permanent.
Genres: