Love Finds a Treasure (Barbara Cartland's Pink Collection 151)
Unabridged Audiobook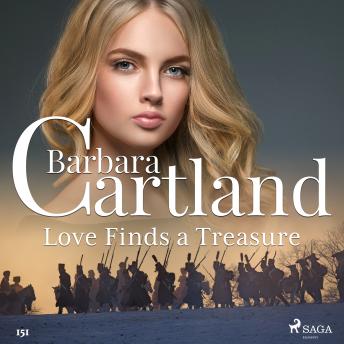 Duration:
4 hours 25 minutes
Summary:
Michael, the handsome Earl of Monkford, returns from fighting in the Napoleonic War to find that his beloved home, Monk Hall, once a Monastery, has become thoroughly dilapidated from lack of money.
tAnd his estate has been sadly neglected with broken down farms and barren fields.
tHis mother, the aging Countess, and his cousin, the beautiful Linka, who he grew up with, have done their best to keep everything going with much difficulty.
tMichael is constantly told by his mother that he must marry a rich wife, but when he meets a local heirless she is determined not to marry as she prefers her horses to fortune-hunters!
tLink prays fervently every day to the statue of Saint Anthony that some miracle will save them.
tAnd, when she tries to pull bindweed off the statue, she discovers a horde of treasure hidden by the monks under the statue itself.
tThis changes their lives completely and Linka suddenly realises that she has always been in love with Michael.
tHow Linka believes that Michael will marry a beauty from the Beau Monde.
tHow she is terrified at night by the beauty's brother and runs frantically for help.
tAnd how both Linka and Michael both find true love is told in this fascinating tale by BARBARA CARTLAND.
-
Barbara Cartland was the world's most prolific novelist who wrote an amazing 723 books in her lifetime, of which no less than 644 were romantic novels with worldwide sales of over 1 billion copies and her books were translated into 36 different languages. As well as romantic novels, she wrote historical biographies, 6 autobiographies, theatrical plays and books of advice on life, love, vitamins and cookery. She wrote her first book at the age of 21 and it was called Jigsaw. It became an immediate bestseller and sold 100,000 copies in hardback in England and all over Europe in translation. Between the ages of 77 and 97 she increased her output and wrote an incredible 400 romances as the demand for her romances was so strong all over the world. She wrote her last book at the age of 97 and it was entitled perhaps prophetically The Way to Heaven. Her books have always been immensely popular in the United States where in 1976 her current books were at numbers 1 & 2 in the B. Dalton bestsellers list, a feat never achieved before or since by any author. Barbara Cartland became a legend in her own lifetime and will be best remembered for her wonderful romantic novels so loved by her millions of readers throughout the world, who have always collected her books to read again and again, especially when they feel miserable or depressed. Her books will always be treasured for their moral message, her pure and innocent heroines, her handsome and dashing heroes, her blissful happy endings and above all for her belief that the power of love is more important than anything else in everyone's life.
Genres: