Love in the Bargain
Unabridged Audiobook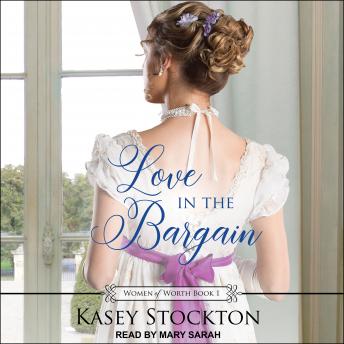 Duration:
7 hours 33 minutes
Summary:
A vow to remain unwed and a bargain designed to find her a husband. What could possibly go wrong?

Elsie and her two best friends made a childhood vow to never marry.

But when Elsie begins her first season in London, her mother presents her with an irresistible bargain: if she says yes to each and every man's invitations and still remains unattached by the end of the season, she will receive her inheritance and become a free woman.

She is thrown into the spotlight by increasing attention in the newspaper gossip articles, and keeping her end of the bargain seems impossible-especially when her best friend's tyrant of a brother, Lord Cameron, begins to make advances that Elsie literally cannot refuse.

The gossip grows increasingly malicious, leaving destroyed reputations and broken homes in its wake, and Elsie can't seem to escape its focus. But it's her own blossoming feelings for Lord Cameron that pose the greater threat. If she can't keep him out of her heart, she's sure to compromise the bargain, break her vow, and lose her one shot at freedom for good.
Genres: