The Lowdown: A short history of the First Gulf War
Unabridged Audiobook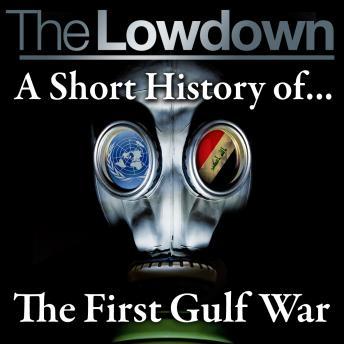 Duration:
1 hours 49 minutes
Summary:
A concise history of Saddam's road to ruin – the denouement of Iraq
"The Lowdown: A Short History of the First Gulf War" gives an explanation of the causes of the Gulf War in 1990-91 and how the Iran-Iraq War of the 1980s shaped the political and diplomatic landscape that led to a confrontation between President Saddam Hussein of Iraq and a world coalition led by the United States.

At the end of the Iran-Iraq War in 1988, Iraq was in significant debt. Saddam coveted Kuwait's vast oil revenues and considered using his vast and seasoned army to get them. He presumed that there would be little resistance to an invasion – a dreadful miscalculation. When Iraqi forces poured into Kuwait, much of the world united against them. The First Gulf War opened a new chapter in the region's politics, bringing together the Arab states and the Western world.

Yet, ultimately, it was a war that convinced Saddam to continue his defiance of the West and to exercise even greater ruthlessness to stay in power - a situation which led to the Coalition invasion of Iraq in 2003.

After that 2003 onslaught, many speculated as to what had gone wrong in the first Gulf War. Why had Saddam been able to survive? What was it that drove him to continue to snub the world and pursue his objectives so aggressively?

"The Lowdown: A Short History of the First Gulf War" considers these questions, examines the character and experiences of Saddam himself, revisiting the First Gulf War in light of more recent events.


Genres: