The Magical Peppers and the Island of Invention
Unabridged Audiobook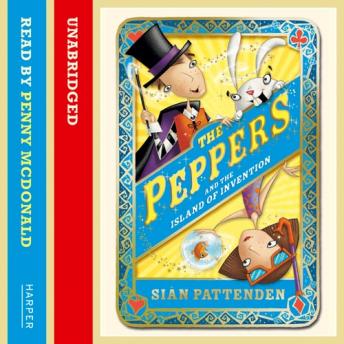 Duration:
2 hours 43 minutes
Summary:
A strange old theatre at the end of the pier is the setting for the next fantastic adventure full of magic and mayhem with unbeatable double act, Esme & Monty Pepper, and their madcap Uncle Potty…


The Pepper twins, Esmé and Monty and their uncle Potty have been summoned to the Sea Spray Theatre on the end of Crab Pie Pier. They're on a mission to keep the old theatre from closing and must perform the show of a lifetime to reel in the crowds.


But not everyone wants the theatre to survive and a certain someone is determined to sabotage the show, whatever the cost…


Add a strange island hideaway full of zany inventions (including the Great Crab Pie Flytrap and the Banana-Powered Test Your Strength machine), a hair-raising helicopter rescue-mission, some dodgy fortune-telling and the world's biggest goldfish bowl and the Peppers are in for an unforgettable summer.
Genres: