Making Changes
Unabridged Audiobook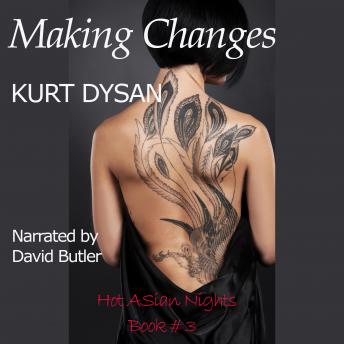 Duration:
2 hours 5 minutes
Summary:
It can be hard to change jobs when you work for the Russian mob. Out of desperation, Sara started working a scam in a Phnom Penh hotel for Mikka. Now she's found that freelancing, entertaining Chad's kinky clients is a lot more fun, but the mob Mikka works for reacts violently when people try to quit. She has to meet her quota or else.
When Bel arrives in Phnom Pehn, she's on the run from the law. Ironically, people who befriend her, rob her, taking her money, passport, and clothing. Now she's broke and has to screw her landlord whenever he wants if she wants to eat and not be arrested. When Interpol arrives, on the trail of the scam, Sara thinks might just have a solution to both their problems — if Bel wants to play. She does.
~~~~~ PG Excerpt ~~~~~
For most of the long flight, Bel fidgeted uncomfortably in her seat. It was fourteen hours from Amsterdam to Malaysia — Kuala Lumpur. Although she desperately needed to sleep, so much had happened in the previous few hours that she couldn't even rest. Recent events kept running through her head like a bad movie. She'd replay them and worry about what might happen next. Some of it anyway. She wasn't even certain of all the details of the mess she'd left behind.
It had been hard, a real heart-rending decision to go on without Mickey, but she'd had to — she knew that much. He wasn't there when the boarding call came, and by then she was certain he wouldn't be coming. She couldn't afford to wait around to see. If she missed this flight…
Landing in Kuala Lumpur, she wandered into the transit lounge where she intended to catch an onward flight to Phnom Penh. Continuing on the way they'd planned seemed the best course. Looking at the departure board, for a moment, she considered changing to a Bangkok flight. There were a lot of them headed that way. Bangkok was a big place and it would be easier to lose herself in a big city like that.
Genres: