Manipulation & Dark Psychology - 2 in 1 Bundle: Dominate Your Conversation and Analyze People With Proven Methods to Master Body Language, Persuasion & Mind Control, and Develop Effective Communicatio
Unabridged Audiobook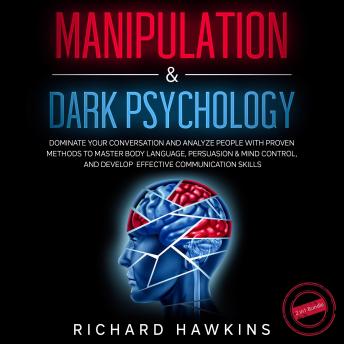 Duration:
2 hours 20 minutes
Summary:
DO YOU WANT MASTER THE ART OF MANIPULATION & DARK PSYCHOLOGY TO PROTECT YOURSELF AND IMPROVE YOUR SOCIAL LIFE?

Manipulation is just one of the strands of what is known as dark psychology. It can often stir up negative connotations when it is used by people like narcissists who simply want their own way all the time, but it can be an extremely useful tool when it comes to negotiating and conducting business or other transactions.

The skills you are about to learn, can't be used for evil, so please stop reading now if you still doubt your intentions.

Good, you are still here! I am about to share with you some of the most powerful psychology tactics that you'll find in this book:

You Will Learn:

• How to recognize (and protecting yourself from) emotional manipulation

While enriching your social life

• How to read verbal and non-verbal communication

• How to master covert manipulation and persuasion

• How to influence love and relationships

And much more!

No matter your goals in life, these psychological tricks are vital to your success.

GET THIS BOOK TODAY! AND DISCOVER HOW TO MASTER PERSUASION, INFLUENCE OTHERS, AND BEGIN YOUR JOURNEY TO YOUR IDEAL LIFE!
Genres: