Mantis Preying
Unabridged Audiobook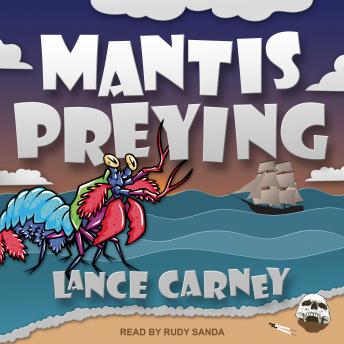 Duration:
13 hours 3 minutes
Summary:
Daniel O'Dwyer, ex-hospital pharmacist, accidental detective is back. Content to be unemployed and spend his days in the sun and sand of his Oak Island paradise, Daniel is once again drawn back to the local hospital and the mysteries that surround it. Construction on the hospital grounds unearths human remains, which are quickly dismissed as being part of a Native American burial ground. A young, clumsy medical resident who runs into Daniel, thinks otherwise. Meanwhile, Daniel's socially imbalanced sidekick, Willie, has a problem of his own. Willie's landlocked houseboat, the Silent Cow, is haunted.

Along the way, Daniel becomes involved with a beautiful veterinarian, assisting with a drug diversion problem in her office; a beautiful Amazonian female construction foreman, a yodeler and jammer on the local roller derby team; and a beautiful, deadly peacock mantis shrimp. Will Daniel become ensnared in the mystery of the human remains? Will Willie succeed in getting the Silent Cow exorcised? Will Daniel have to go back to work? Will the peacock mantis shrimp break through the glass and run amok through the hospital halls?

Loaded with new, quirky characters, Mantis Preying is a follow-up to Ripped Tide, a 2017 McGrath House Indie Book Award in the Humor Category.
Genres: